No Easter celebration with family this year but a nice day with truly missed "dog family"at the first show this year.
Malmö IDS didn't let us down! We got the same results as last time 2019!
BOB – this time as 10 1/2 year old – Chi's Lovely Cassio. Also short listed in BIS veteran!
BOS Chi's Lovely The Queen (Own Lisa Göl)

Also very happy my little "corona" boy Chi's Lovely Puck liked the show situation. He loved it and behaved well, EXC2. <3
BOB Breeder LC
Thank you for nice company and help with the group Lisa, Lorettah Bortinna and Kim Forsberg.
Photo: Lorettah Bortinna
Malmö International Dog Show - April 16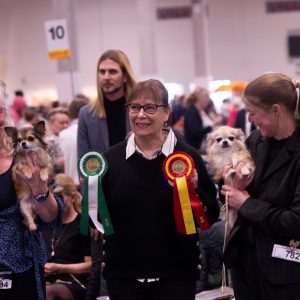 Results
BOB CACIB Chi's Lovely Cassio (10 1/2 years old) BOB veteran and short listed in BIS veteran! 
BOS CACIB Chi's Lovely The Queen (own. Lisa Göl)
EXC2 Chi's Lovely Puck
VG Chi's Lovely Constance
BOB breeder LC
SC
EXC4 Chi's Lovely Sheriff Of Wiltshire (Co-own. Lisa Göl)