So nice day in Ljungskile with 27°c! The dogs did have fun and so had I!
Love to spend time with friends at show. You are the best! Lisbeth Göl, Helen Perkhed, Susanne Johansson and Kent & Nina Haarala. Thank you for showing and loving my dogs! <3

We had luck and got some great results!
Gerry and Thomas took the top 2 in SC, BOS and BM2.
Musse BM2, Allie BF3 and Miranda BF4 and BOS veteran. Breeders group BOB. We didn't stay to the final this time, to hot for the dogs.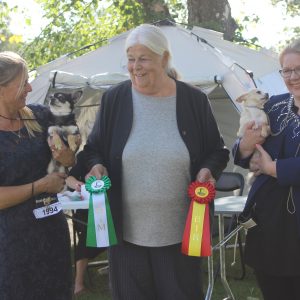 Results
LC
BM2 Chi's Lovely Cassio
BF3 Chi's Lovely The Queen (co-owner Lisbeth Göl)
BF4 BOB veteran Chi's Lovely Miranda
VG4 Chi's Lovely Titania ((co-owner Helen Perkhed)
VG Chi's Lovely Lady Anne (own Kent & Nina Haarala)
VG Chi's Lovely Page To Paris ((co-owner Susanne Johansson)
BOB breeder 1 HP
SC
BOS Chi's Lovely King Simonides
BM2 Chi's Lovely Sheriff Of Wiltshire (co-owner Lisbeth Göl)