I am so grateful for all my wonderful friends I have made thru the dogs! Just being at a show, laugh and have fun is the best thing! And upon that also get super results is magic! 🙂 Thank you so much for the day, for showing and loving my dogs and helping me out!
So the results 😉
(Complete results under all pics)
Best In Show 3 breeder!!
BIS judge Aleksandar Petrovic.
Thank you Lisbeth Göl, Kim Forsberg & Kent & Nina Haarala <3 Love you!
BOB Gerry + BM3 R-CAC Thomas.
Also happy for BM2 CAC Angelus Corona Ready or Not who is a son to SE DK CH Chi's Lovely Lord Berkeley. So all boys BM 1-2-3 are cousins 🙂
BOB SC puppy Jenny (no photos on her, forgot to take)

Miranda, my little chubby love, was in a great mood and went all the way from Veteran Class to Best Bitch and BOS! Also BOB veteran.
Also got some blurry pics on this cute young girl Alice – Chi's Lovely Lady Anne. She is a litter sister to Thomas. She took part in the group to. Thank you for that Kent & Nina Haarala! When she will walk, it will be very good lol
Hässleholm Nordic May 18 2019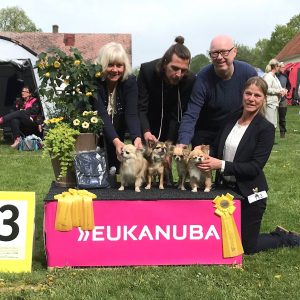 Results
SC
BOB NORDIC CAC Chi's Lovely King Simonides
BOB puppy Chi's Lovely Timandra
BM3 R-CAC Chi's Lovely Sheriff Of Wiltshire (co-owner Lisbeth Göl)
LC
BIS breeder 3!!
BOS NORDIC CAC BOB Veteran Chi's Lovely Miranda
BM4 Chi's Lovely Cassio
BF4 Chi's Lovely The Queen (co-owner Lisbeth Göl)
VG Chi's Lovely Lady Anne (own Kent & Nina Haarala)