Crazy! Happy! LC Musse BOB + Allie BOS and Miranda BOB veteran and BF3!!
SC Gerry BOB and new CIB!
Never thought we could top last years results at Malmö International show, when we won BOB in both LC and SC. But we did! Se complete results! 
Under results I wrote some old results from Malmö.
Malmö International mars 31 2019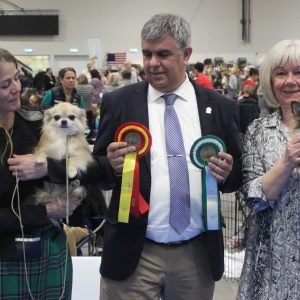 Results
BOB CACIB and NEW INTERNATIONAL CHAMPION Chi's Lovely King Simonides
BOB CACIB Chi's Lovely Cassio
BOS CACIB LC Chi's Lovely The Queen (co-owner Lisbeth Göl)
BOB Veteran BF3 Chi's Lovely Miranda
SC
Puppy 2 Hp Chi's Lovely Timandra
Intermedia EXC3 CK Chi's Lovely Sheriff Of Wiltshire (co-owner Lisbeth Göl)
Ch EXC 4 CK Chi's Lovely Lord Berkeley (co-owner Louise Wennerlund)
Thank you
All for a nice day by the ring and thank you Lisa for helping me out in BOG! And for chocolate!
Here's some fun curiosa from Malmö shows during the years we have been there. Just the dogs placed, might had some more showed 😉

2018 BOB both varieties: LC BOB Musse – SC: BOB Gerry
2017 (I was not there)
2016 BM2 Musse – BF2 Miranda
2015 BIG4 BOB Musse – BF2 Miranda – SC: BOS Chi's Lovely Lady Goneril 
2014 BIG2 BOB Musse – BM2 Chi's Lovely Sir Orsino – SC BH4 Chi's Lovely Julius Caesar & BF4 Chi's Lovely Charmiana
2013 BF4 Chi's Lovely Celia 
2012 BF2 Miranda – SC: BH4 Chi's Lovely Julius Caesar
2011 BF2 Miranda – BF3 Chi's Lovely Celia 
2010 BOB Small Is Beautiful's Had To Be You – BOS Chi's Lovely Alfvina Ärtblomma – BF4 Chi's Lovely Mistress Page (first time I got both BOS & BOS!)
2008 BF-R Chi's Lovely Alfvina Ärtblomma
2007 BOS Guichon's American Rose (BIG day in my life!)