Very nice this was the last out door show fort the year. Hard to be outside in the end of September and really tired to put the tent up.
Boys did well also today! Presley won open class but in best male the judge changed order so instead of BM2 with CAC he became 3 with R-CAC and no Champion title this time… Boring!!
Thomas did well and won his class, but was not at all happy that I showed him in BM when Lisa took her other boy, so he had no place. But BOB junior!
Mimmi was BF4 – Allie and Miranda no placements.
Musse and Gerry was home 🙂
Tågarp SDHK Nat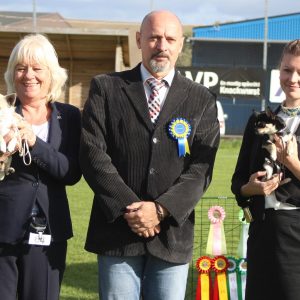 Results
SC
BM3 R-CAC EXC1 CK Chi's Lovely Lord Berkeley (co-own Louise Wennerlund))
BOB junior EXC1 CK Chi's Lovely Sheriff Of Wiltshire (co-own Lisbeth Göl)
LC
BF4 CH Chi's Lovely Duchess Of York (co-own Louise Wennerlund))
EXC CH Chi's Lovely Miranda
EXC CH Chi's Lovely The Queen (co-own Lisbeth Göl)