So, so happy!
What a day with 2 new champions in one day!!
First out and in pouring rain was Gerry, he started in SC to win open class. Judge was Siv Jernhake. It was pretty nervous as it was also a foreign champion male that could take the CAC, and of course the other class winners. He ended up as BM 2 after a Ch and had some champions behind to, so when the judge chose between 2 and 3 I already understood he had won the CAC. Nice feeling in the crazy rain! He also became Finnish Champion.
Then it was Musse – he had no big luck this time. He came 2 i Ch class and ended up as BM4 (his worst result during this whole year so far lol).
Then the next dogs was Mimmi and her cousin Lara in open class. They did really good! Came 1 and 2 with CK.
Miranda – 4 in ch class with CK. So I had to ask for help showing her in BF – and she really hates that, she can just be shown by me. Poor girl, she was so depressed 😉
But I made the right decision to take Mimmi my self as she ended up as best female! Nr 1 with CAC and new Champion! Last turn in the ring was so exciting, the champion class winner was not SE CH so she could also take the CAC, a pretty MultiCh girl from Denmark. So, very exciting!
We showed the group and it got excellent critique!
Thank you for coming Helén and Conny Perked, nice to see you and thanks for all photos!
Thank you Madeleine Eriksmoen for helping me with Miranda in BF and with the breeders group! Also thanks for Susanne hosting me in her tent.
A lovely day  ♥
Photos Conny Perkhed and Martin Möller.
Backamo Nat Show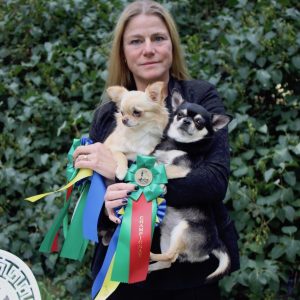 Results
LC

BOS CAC NEW CHAMPION Chi's Lovely Duchess Of York

BM4 Chi's Lovely Cassio

EXC2 CK Chi's Lovely Countess Of Auvergne

EXC4 CK Chi's Lovely Miranda

BOB breeder

-

SC

CAC NEW SWEDISH AND FINNISH CHAMPION Chi's Lovely King Simonides