Amsterdam
Lovely days at WDS in Amsterdam among a lot of friends. My dogs did their best but no big win for them this time. Musse EXC and no place in a class of 18 males. Miranda 2 in veteran class. Elliot got VG. Our breeders group was 2 out of 3. So happy Mathilda and Eternell was there with me ♥
---
I do have some critic to the organizer. Putting the SC and LC in different halls – yes, different halls!! – that is totally unacceptable! The rings was placed in a cluster of 4 and to put all 4 Chihuahuas beside each other would be so easy and of course the only way as it's the same breed. We really tried to have it changed instantly but no… In SC they were not even beside each other.
Also the horror to have to leave the other dogs and all the private stuff when going to an other hall. Who watch it then?! Someone can just steal the dogs. Amazing!
We pay really much (both money and time) to show at the most important show in the world. We compete on a very high level and many of us couldn't even show our dogs because of this!
Let me say this, we are very used to have 2 dogs in different rings at the same time – that is our reality in this breed and not what this is about. This is about bad organisation and to realize when the ring plan was released, that the Chihuahuas were placed in different halls. So very bad and ignorant!
An other thing is that we need to see and watch the other dogs and talk with people working with our breed. It's very important for a breed and for the breeders to have this opportunity. No were else it's possible to see so many high quality dogs at the same time and meet all breeders from around the world. Such a great chance for networking. 
Also the organization of the parking was terrible. I had bought parking before and was just supposed to drive in to the garage – that took med 1 1/2 hour!
I could say more things but I leave it there  😉
Thank you Mascha Hogeboom, Eternell Andrén & Mathilda Borslöv for photos.
World Dog Show Amsterdam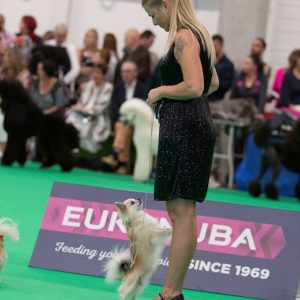 Results
EXC2 Reserve Veteran World Winner Chi's Lovely Miranda

EXC Chi's Lovely Cassio

VG Chi's Lovely Sir William Catesby

-

2 Breeders group (out of 3)