We showed 2 days in Tvååker (that is very close to our home – wonderful!) It was very very hot, over 30°c! Really hard for the dogs. Not Mirandas fav whether and she kind of never get a place when it's so warm. And didn't this weekend either :p
Very many dogs entered both days.
Musse did great! He has really been very fortunately so far this year! BOB the first day and BM2 the second day. On 7 shows in a row he has been unbeaten male. He has 3 BOB and 2 BOS in Sweden and 2 BOB in Germany. Pretty good 🙂 He also got his first NORDIC CAC (his first try for one).
We also had a group in LC that was BOB.
In SC the little junior boy Thomas, Chi's Lovely Sheriff Of Wiltshire became BM2 with R-CAC and R-Nordic CAC!! Won over many champions! He was there just 1 day. Well done Lisa Göl and congrats!
Thank you Mathilda, Annica, Lisa and Helen for help with the group and for showing and loving my dogs <3
Thanks for photos Paul Nyberg & Mathilda Borslöf.
Tvååker NORDIC Saturday - Nat Sunday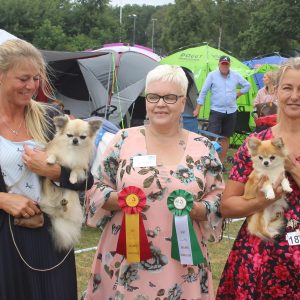 Results
Friday Nordic
LC 81 - Judge Kristiina Ahlberg
BOB NORDIC CAC Chi's Lovely Cassio
EXC2 CK Chi's Lovely Duchess Of York
EXC3 Chi's Lovel The Queen
EXC4 Chi's Lovely Miranda
EXC Chi's Lovely Titania
-
BOB breeders group LC
-
SC 56 - Judge Geoffrey Curr
BM2 R-CAC R-NORDIC CAC Chi's Lovely Sheriff Of Wiltshire
EXC3 Chi's Lovely King Simonides
EXC Chi's Lovely Queen Elisabeth
-
Saturday NAT
LC 85 - Judge Geoffrey Curr
BM2 Chi's Lovely Cassio
EXC Chi's Lovely Sir William Catesby
EXC3 Chi's Lovely Balthasar
EXC1 CK Chi's Lovely Duchess Of York
EXC Chi's Lovely Countess Of Auvergne
EXC Chi's Lovely Miranda
No breeders group showed
-
SC 55 - Judge Ásta María Guðbergsdóttir
EXC3 CK Chi's Lovely King Simonides